The church of Porta Panagia or otherwise known as "Panagia of the Great Gates" is located opposite Pele in the Porta neighborhood. It was built in 1283 by the reverend king John I Aggelos Komnenos Doukas. The uniqueness of the temple is found in two mosaics of the main gate of the Sanctuary. These are the full-length images of the Virgin Mary and Christ, placed contrary to the Christian orthodox tradition, with Christ on the left and Virgin Mary on the right.
Ο ναός της Πόρτας Παναγιάς ή αλλιώς η «Παναγιά των Μεγάλων Πυλών» βρίσκεται απέναντι από την Πύλη, στον συνοικισμό Πόρτα. Χτίστηκε το 1.283 από τον σεβαστοκράτορα Ιωάννη Α΄ Άγγελο Κομνηνό Δούκα. Η μοναδικότητα του ναού  βρίσκεται σε δύο ψηφιδωτά της κύριας πύλης του Ιερού. Πρόκειται για τις ολόσωμες εικόνες της Παναγίας και του Χριστού, τοποθετημένες αντίθετα προς την χριστιανική ορθόδοξη παράδοση, με τον Χριστό αριστερά και την Παναγία δεξιά.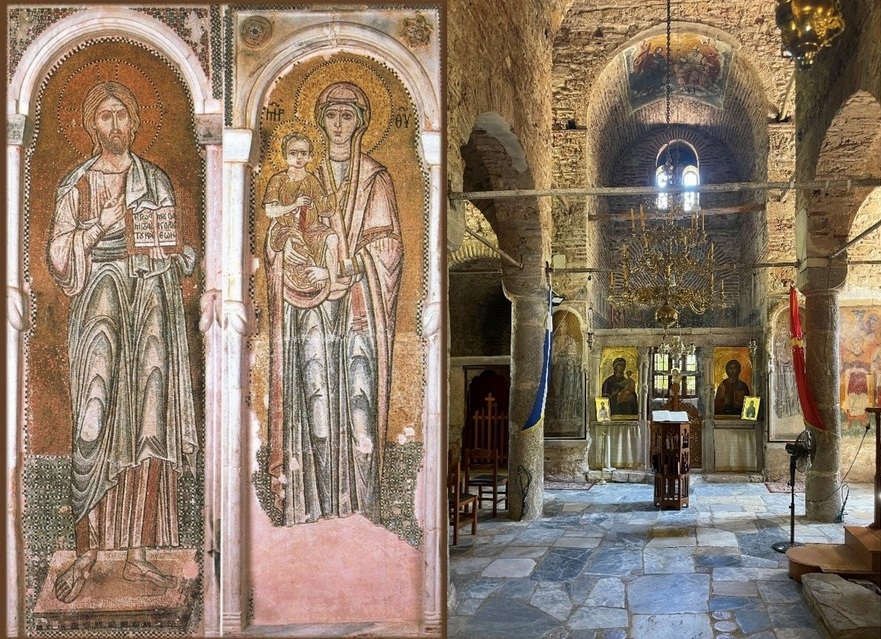 The church is located on the northern bank of the Portaikos river, in the ruins of the old settlement of Megale Porta (Μεγάλη Πόρτα) or Megalai Pylai (Μεγάλαι Πύλαι), which was razed by the Ottomans in 1822. The modern town of Pyli, formerly Porta, is nearby. The names for both the former and the current settlement mean "door" or "gate" in Greek, and derive from the nearby namesake pass that forms an entrance to the Pindus Mountains.
Η εκκλησία βρίσκεται στη βόρεια όχθη του Πορταϊκού ποταμού, στα ερείπια του παλιού οικισμού Μεγάλη Πόρτα (Μεγάλη Πόρτα) ή Μεγάλες Πύλαι, που ισοπεδώθηκαν από τους Οθωμανούς το 1822. Η σύγχρονη πόλη της Πύλης, πρώην Πόρτα, είναι κοντά. Τα ονόματα τόσο του πρώην όσο και του σημερινού οικισμού σημαίνουν «πόρτα» ή «πύλη» στα ελληνικά και προέρχονται από το κοντινό ομώνυμο πέρασμα που αποτελεί είσοδο στην οροσειρά της Πίνδου.
Επιμέλεια: Ζαχαρίας Ζαχαριάδης